Frequently Asked Questions
DJ & Live Sound
What Kind of Speaker Systems are Used?
---
Our main speaker system is the Bose F1 812 which is capable of delivering 4000 watts to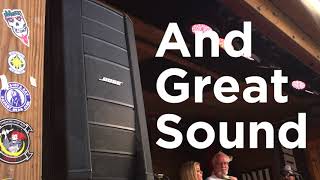 FOH (Front of House) We are setup in a stereo configuration with right and left channels of our DJ music presented at the right ane left speaker assemplies. Each side of the stage comprises of a Subwoofer and a articulating Top speaker assembly that is able to direct sound according to the makeup of the performance area. Each of the four speakers can deliver 1000 watts output. The newest addition to our Bose Sound is the Bose S1 Professional Speakers for the monitor speakers. These speakers includer lithium batteries which make them very portable can be used bring live music to locations that do not have electrical power.
---
What Kind of Mixer System is Used?
---
We deploy a Digital mixer system capable of connecting up to 32 channels of voice and instruments for control via an iPad. See video below: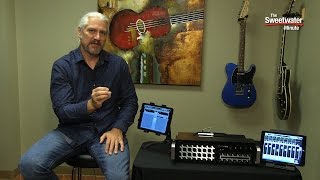 This means the sound man will be able to walk around and make sure that sound levels and equalization is best suited for your event. Secondaritly we keep on hand two additonal mixers, both with 16 channels each, One Digital and one Analog. This way your event is assured to remain operational in case of mixer failure.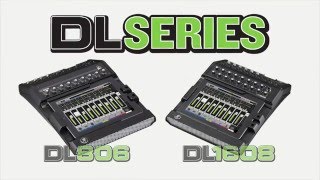 Here is a video description of our DL1608 Digital Mixer
---
Do You Have a Back Line of Instruments?
---
A back line is instruments that are provided on stage by the DJ for the musicans to use. This way the musicians can leave some of their own gear home. Currently we provide the following backline of equipmnent:
Bass Amplifier (Amplifier Head and Speaker Cabinet on wheels) with jack plug in to PA system to extend its sound to the

Bose main speakers

(If needed)
Bass Guitar (four string)
Roland TD-4 Electronic Drumset with throne
Casio Electronic Keyboard with stand and foot pedal
Pair of Congas with stand (play while standing or sitting) will be mic'ed
Please make arrangement with BillyG if any of this equipment is needed.
---
I Play my Guitar effect pedals directly to my Guitar Amp is this okay?
---
If your guitar amp does not have an audio output jack (XLR or 1/4' Plug) we will use a dual interface DI (Direct Interface Box to connect your guitar to the DI via the 1/4" input jack, then connect the DI's 1/4" output to your amplifier. Your sound will not be affected at all. The XLR output of the DI is then routed to a channel on our mixer and, whamo, you are good to go. In this scenario of a hook up you will keep your guitar only as loud enough to be able hear it on stage. The sound man will control your guitar in the mix with all other performers on the stage. This is the dream setup that sound engieers like.
---
How is the bass amplifier connected to the Bose sound system?
---
Usually via DI output jack (XLR or 1/4") located on the back of your bass amplifier. If you don't have one, then we will use a dual interface DI (Direct Interface box), Your bass line cord is plugged into the DI 1/4" input and the DI 1/4" output is connected to your bass amplifier. The DI is connected to our mixer via the XLR output jack. The bass amplifier connection to the Bose Sound System only to improve its presence in the mix.
---
What kind Microphone Systems do you use?
---
WIRELESS MICROPHONES We are able to provide your entertainers with up to 8 wireless microphones for a wireless performance. Our wireless microphone utilize a dual recieve design that virtually eliminates microphone dropouts as performers move about the stage. While there is never a gaurantee that anything wireless can work flawlessly, I've only had one case where a wireless microphone didn't perform well at a specific location and it was due to some kind of RF (Radio Frequency) interferrence. I simply switched to a different microphone on a different frequency. Once had Hawaii's Touch of Gold miced up not realizing that they would be strolling the floor infront of the stage. It was beautiful. DRUM MICROPHONES We are able to mic an acostic drum set as well with a condenser drum mic kit available and over a dozen wired microphones (Shure SM58 and SM57) to serve as backups for any mic situation that may occur. Note: Some sound engineers like to microphone guitar amplifiers as a way to connect amps to the main sound system, however we make all our connection "directly" so as to minimize feedback squealing on the performance stage/area.
---
What is a DI and how does it work with my connecting to the Bose F1
---
A DI stands for a Direct Interface connection which basically means the electrical energy coming from your musical equipment is done so via a direct cable rather than using a micropones. I most cases a guitart amplifier is not required and will sound beautifully directly connected to the Bose F1 system we use Vocals, percussions, drum sets, saxophone and basically all wind instruments do not have DI connections, therefore needing a microphone instead.
---
Do you have Music Stands available as well?
---
Yes indeed, be sure to indicate how many you will need for your event.
---
---
Unko BillyG Vocalist
Tell Me About Unko BillyG
---
Unko Billy was born lived in Waianae as a child and graduated form Waianae High School, in the hana bata days. His main instrument is the Bb Tenor Saxophone that he learned to play in highschoo. Of course, most local boyz picked up the ukulele and learned that instrument cause it was just laying around. Mom and Dad also, played music and I guess that's how we all got started. He has played with many bands in his childhood before joining the Navy as a radioman. Today, He practices his ukulele playing and singing songs of old and new... may be not so new. Anyway, you can listen to him practicing by clicking here.. gulp! no laugh now. Some day he'd like to play in some resturant here on the Leeward side.
---
What about Unko BillyG's Christian Original Music?
---
I presently have five original song that I wrote. You can hear the tracks I produced quite some time ago on sound click. In these track I'm singing while playing the Ukulele, Bass, Keyboard organ, Keyboard Stings and Percussions. Listen at www.soundclick.com/billygombanjr
---
---
Pricing & Payment
How can I get a Price Quotation for my Event?
---
Simply use our online form, Click here, fill it out and submit on-line. We will review the form promptly and call for additional information as needed before preparing a quotation.
---
How will I pay for the event services?
---
First of all remember that you should never pay fully for any event services before the event takes place. This way you can be assured that you won't be ripped off. You will be required to pay a 25% deposit to secure our services. The remaining balance is due at the end of the event. Generally speaking we will take payment from you (the customer) upon completion of the event.
---
Do I need to Pay a Deposit?
---
Yes in the amount of about 25% of the total cost. This mount will be submitted to us via a check or money order made out to William Gomban Jr. and mailed to: William Gomban Jr 91-1475 Hoano Street Ewa Beach, HI 96706
---
Is the Setup/Teardown Time Included in My Price?
---
Hiring our services for 4 hours means you will receive 4 hours of service. The setup/teardown times are what are responsible and outside the performance times. We will usually show up about 1.5 hours before the scheduled start time of the event. For events in residential areas we will request that you block off parking for our GMC cargo van to facilitate ease of unloading and loading.
---
---
General
What Services Do You Provide?
---
You have probably noticed that we have three main services available here a www.billygomban.com and they are:
DJ, Bose Sound and Lights

Unko BillyG Ukuleleist & Vocalist

Honu Web Designs
Note: That most DJ's will only have a single microphone or two for you to use. If you have other volunteer musicians coming to play you, the DJ may not be equipped with extra microphone, Direct Interfaces and floor monitors they may need as we do. Further you may be able to reduce the cost for your extra entertainers by mentioning that you already have

eight wireless microphones

, a Bose sound system, with a

digital mixer

, that is

iPad controlled

by a Musician which means they can rest assured that the mix will be good.
---
Can You Provide DJ and Sound Services Outdoors?
---
Absolutely, we've worked at parks and other outside venues. However there are some considerations regarding power, location, and overhead canopy requirements explained further in this FAQs.
---
What Are Your Stage or Space Requirements?
---
We would usually like a space of about 10 feet by 10 feet square with a 6 foot long table for the sound equipment. Slightly smaller is okay too, as long we have some place to store some of the equipment trunks and covers (all very negotiable). The nature of our Digital wireless interfaces to control the sound via a wireless connection eliminates the need to position a sound booth in the audience. This is a good thing for large events. Most of the time we will do well, on the stage or performance area, or on either the left or right side.
---
---
Web Designs
What Web Design Platform Do You Use?
---
I use WIX which is one of the higher rated web design platform for 2019. I've been using it for about 3 years now.
---
Can a Wix Website be Edited via an iOs or Android Device?
---
Unfortunately not, however Wix has an app that allows for posting Blogs and managing some of the marketing aspects of a Wix site.
---
---
Power & Stage
What Are Your AC Power Requirements?
---
We require a single 110v AC power circuit like used in home to be located at least 10 feet from the performance area. This outlet should not be shared with other appliances at the event, i.e., coffee makers, popcorn machines, cotton candy, etc. as those equipment draw high amounts of power that could trip a breaker and cause the DJ system to suddenly turn off, it has happened.
---
My Event will be Outdoors and there is No AC Power Available, What do I do?
---
Not a problem, we have Honda Generators for these ocassions and can provide power for the sound equipment. We have an additional generator that you can rent from us if you need generator power as well. Our Honda inverter generators are very quiet and provide the cleanest power needed for our equipment. We do have the same considerations for budgeting our power to insure that the generator does not trip off when in the middle of event.
---
What about power for my Guitar/Bass amplifier and Effect Pedals I may have?
---
Rest assured we will have ACj power available for you to connect to.
---
---
---
---
Christian Sound Ministry
Will it Cost My Church Anything to Get Help?
---
Absolutely not, We are blessed to share our expertise with fellow Christians. Don't hesitate to contact us and let us know your needs.
---
What about equipment purchases?
---
Yes, I will help you find equipment for your stage and worship team. Funding is never plentiful when it comes to the worship team so it becomes prudent to find equipment that will work but not cost too much. If you need new or additional equipment, I can help you to find good deals. Contact Us
---
---
Unko BillyG's Event & Website Services